5/3/2006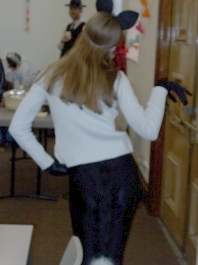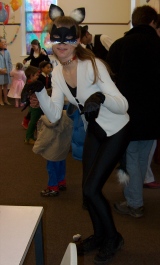 This is what I looked like at the 'Fasching' party last Sunday. The picture on the left was brightened so I could show off how realistic my tail looked.

Hm, what else have I forgotten to talk about? Ah yes: 2 Wednesdays ago I saw the differences between 1st and Standard Class coaches on long distance trains. Standard Class has good toilets, shop (on Virgin anyway), buffet cart and 2 comfy seats on either side. If there isn't a big table in front of your seat, you get a pull down one. In 1st Class, there is only 1 comfy seat on either side of the aisle (more room for seaters and walkies alike), almost every seat has a square table in front and if not, a solid, rectangular panel. The tables are neatly prepared with a placemat, a tea set (tea/coffee and milk served later) and later on a 'palette' gets served, providing a snack.

On Friday I saw another reason why letting the under 16s go on the bus free is stupid: I took the bus to go to Nando's (a restaurant I went to with a large group of schoolmates) and before me a large group of teenagers-who definitely seemed younger than me-went on. They were loud but not rowdy. 2 stops after getting on, they went off. 2 STOPS?!! WHAT WAS THE POINT?! Doing that regularly is quite harmful to the environment, not to mention STUPID! AND LAZY! I CAN WALK THAT DISTANCE IN 10 MINUTES!

I'm also somewhat amused: earlier, out of annoyance of Teleport going wrong I ended up scheduling a technician to come round tomorrow. Teleport is a service offered by cable company Telewest, in which part of the deal is having a choice of 'renting' 250 movies (excellent!). Earlier I was watching Mad Max 2, but 10 minutes in it suddenly cut out and text appeared on the screen. "This service is temporarily unavailable, please try again later. If problem persists call the free Customer Care hotline on (insert number) and quote 1050" After 40 minutes of switching MTV channels I did just that and they turned out to be pretty efficient instructions. After IDing myself and quoting the number they transferred me twice (very quickly) and asked me a few technical questions about the cable box itself. I also made sure that the movie price was refunded-good thing it has 209 days left before removal off the options list.

It turned out the cable box was programmed to give the code 1050 when something went wrong because the technical support guy was running through very noticeable signs of going wrong eg. green light constantly flashing. Every now and then that did happen (turned out it wasn't meant to do that). When restarting the cable box didn't solve the problem, the technician was scheduled. At this point I had to tell my parents what was going on and check the time was alright.

What I found most amusing was they kept addressing me as "Mrs Huneke". I didn't sound

that

grown up did I?